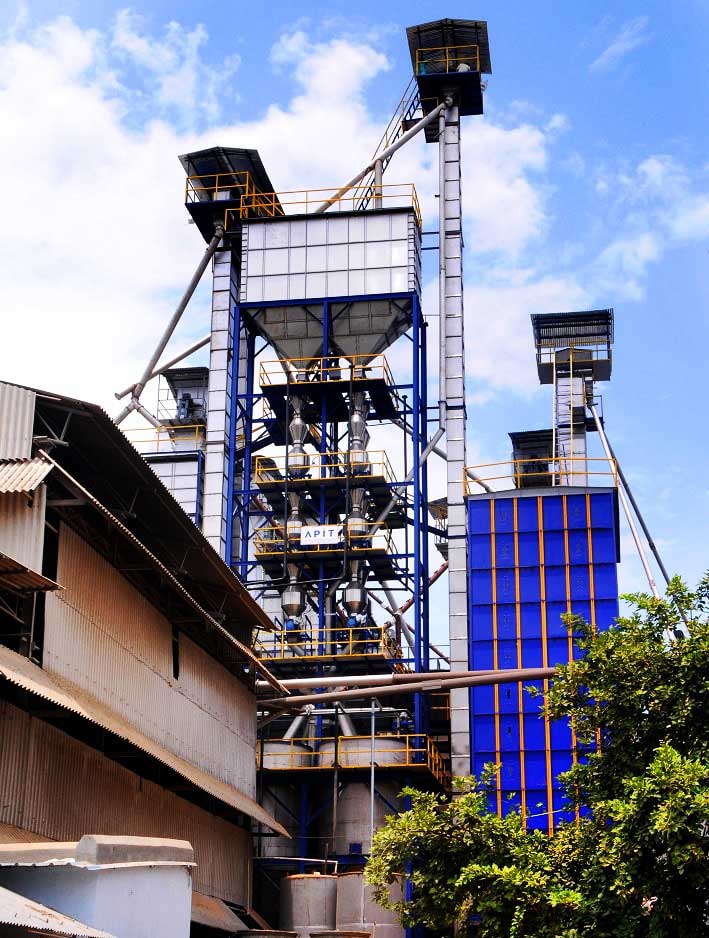 Suryateja Rice Mill
Agri Process Innovations Technologies LLP (APIT) is the world's best paddy process specialists known for process, innovation and technologies. The company is the solution providers for fully automated parboiled paddy processing and driers, improvised accelerated aged rice processing plants and recipe-based rice parboiling along with automation. APIT's team of highly skilled and experienced Engineers and Process Experts helps in providing engineering services with regard to rice processors in Parboiled rice, Steam rice for all varieties.
SURYA TEJA RAW AND BOILED RICE INDUSTRIES PVT LTD
SURYA TEJA RAW AND BOILED RICE INDUSTRIES PVT LTD, Miryalaguda, Nalgonda, Telangana. APIT's esteemed clients have been supported in many aspects including:
Least process Broken
Least process Discolor
Less energy consumption
Improved output rice yield
Reducing human intervention
by installing a FULLY-AUTOMATED SUPER AGING TECHNOLOGY along with software that controls the overall process parameters, resulting in a zero-error process.
SURYA TEJA RAW AND BOILED RICE INDUSTRIES PVT LTD Story
This Rice mill started the rice production in the year 2011 and has a large installed capacity for production of many varieties of rice. In this rice mill there are already existing four parboiling plants in it, but that and all are manual operation plants and supplied by RAMAKRISHNA agencies, And the fifth one supplied by APIT with the capacity of 50 Ton per batch and single dryer, have fully installed capacity units for the production of main Indian rice varieties like,
JAI SRIRAM

BPT

HMT

JAYA

SONA MASOORI
And with that varieties they will produce Steam rice and Half boiled rice. And their main rice marketing was Hyderabad and Bangalore.
APIT's technology has helped the client to overcome challenges like excessive broken, low cooking quality, especially discoloration in grains.
APIT Project Features
Continuous Automated Process System

Air Bubbling Process

Recipe Intelligence System

Least Process Broken
Degree of Starch Gelatinization Control

Uniform Color Consistency

Auto Discharge Mechanism

Uniform Gel Consistency
And the results are here
S No
Parameters
Existing plants in SURYATEJA
APIT's suryateja plant

1

Broken %

Steam: 10-12% 

Half boiled: 6-8%

Steam: 7-8%

Half boiled: 4-5%

2

Process discoloration %

Almost: 2-3%

Almost:0.01%

3

Man power 

3-4 persons

1 person

4

Energy consumption

(Steam, power)

As per requirement

20% less than the existing plant

5

Cooked rice yield (1 kg)

2.5 kg rice

2.8 kg rice.

6

Steam application 

80-85% 

98% , 3D steaming.
SOFTWARE SUPPORT

APIT Provided Surya teja rice mill with fully-automated Parboiling and Drying units along with the installed software Prose that helped them with easy monitoring of the process from a far through online applications, controlled by PLC. Every process parameter is monitored online such that any error can be rectified instantaneously. The fully-automated and online system helped to reducing human intervention, thereby saving overall process time and managing operational costs. APIT has best automation software Prose that is entirely based on the response of paddy in each and every process of parboiling and drying. All the process parameters are controlled by Prose, process design software that in turn provides uniform.
Degree of starch gelatinization control that ensures uniform gel consistency which in end result give uniform color consistency.
IOT Software
APIT provided Surya teja Rice mill with unique software Internet of Things (IOT). The internet of Things, also called the internet of Objects, refers to a wireless network between objects, usually the network will be wireless and self-configuring, such as to field equipment's in rice mills. Here we will use SCADA for control of process parameters and Data acquisition in this system.
APIT IOT System is designed in such a way that the company can monitor, analyze and evaluate the process. Each and every process parameter it can monitor online from any part of world, if any variation arise one can solve it with the help of Prose software. With the help of this software, one can figure out exactly from where the problem is arising so that full process is not disturbed.

After successful installation and running of the plant, Surya teja rice mill is glad and gratified with our technology. APIT is feeling grateful for the excellent results in terms of quality consistency, process broken and process optimization.